2016-2017 Dropout Numbers and Rates Are Static: Send Help
When we started CYC in 2005, we saw dropout numbers go down steadily for the first five years. Then they started to slow down a bit and have since plateaued. The consistent number of those dropping out over the past five years tell us we're in a slump. We must chart a new direction in Colorado with the same sense of urgency that we did 10 years ago. While the dropout rate has reduced from 4.4 percent to 2.3 percent since 2008, we can all agree that 10,000 + students dropping out each year is unacceptable.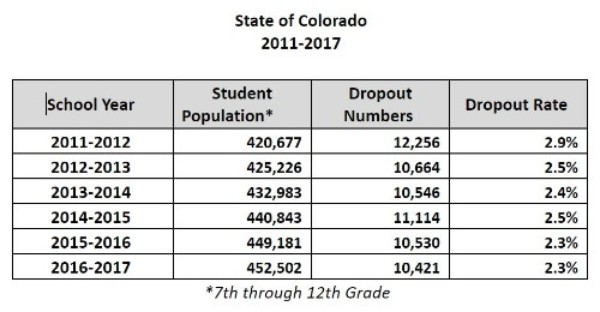 It is possible to point to the growing school population and take note of how many more students were enrolled each year. The fact that the overall population was growing year over year and that the number and rate of dropouts remained consistent shows that something is working. The state as a whole is not losing any of the gains it has made.  
Yet this last year had one of the slowest student enrollment rates since 2011-2012 and the number of students dropping out stayed about the same. This suggests a truly reflective moment.   
So what do we tend to talk about in reaction to the numbers? What do we discuss anecdotally with each other as we look at our own data, and speak with students and families within all of our programs? Here are some recurring themes:  
The dropout population is becoming increasingly complex. While the data is somewhat limited, (see number 2) one thing we can tell is that higher risk groups, or the ones captured in Instructional Service Program Type (ISPT) data, are becoming a larger proportion of the dropout population. This is because students within a ISPT have been increasing slightly while the number of dropouts has decreased and now leveled off. In 2012-2013 for example, these groups were 37 percent of the dropout population. Last year, they were 50 percent.  
Demographic information reported separately. One of the main ways to understand the dropout population is to the look race and Instructional Service Program Type data. Yet these are reported separately. A student is reported as white and a student is reported as homeless, but they are not reported as a white, homeless student. While this data exists, it's not always easy for us to obtain. Conversations are happening with the intent of broadening the available data, but for now, we are limited. This is especially important to us because we need this information to marshal support at the local level and to develop programming.   
On-line schools and the loss of geographical perspective. Depending on the student, on-line programs can be truly helpful. But for some students, they are simply not the answer. More importantly, on-line schools are set up within a single district or the statewide Charter School Institute. This means a student can leave their community school district as a transfer. If they happen to drop out of the online school, these students show up within whatever district supports the online school. This often has no relation to where the student lives.  
Job market acts as a strong pull factor. CYC started in 2005 and took off right before the economic downturn of 2008. At that time, the dropout numbers were staggering and caught a lot of attention. There was an enormous sense of urgency. In some ways, education was the only opportunity, as work and apprenticeship programs struggled to find placements. Now, there is a lot of opportunity and jobs, which can be a good thing. Yet we feel cautious. 44 percent of the youth who tell us they are not interested in returning to school say it's because they need to work.  
The fact that student population growth slowed just a bit, and the 2016-2017 numbers stayed roughly the same, suggests to us the need for some real reflection. We acknowledge that we need to step further back and look at our current information with a more critical lens. We also need new inputs and ways of seeing the issue. And perhaps most importantly, we feel that we truly need new investments. Our programs are holding, but we don't seem to be making the same gains.