A Deeper Dive: Breaking down the 2017 Annual Report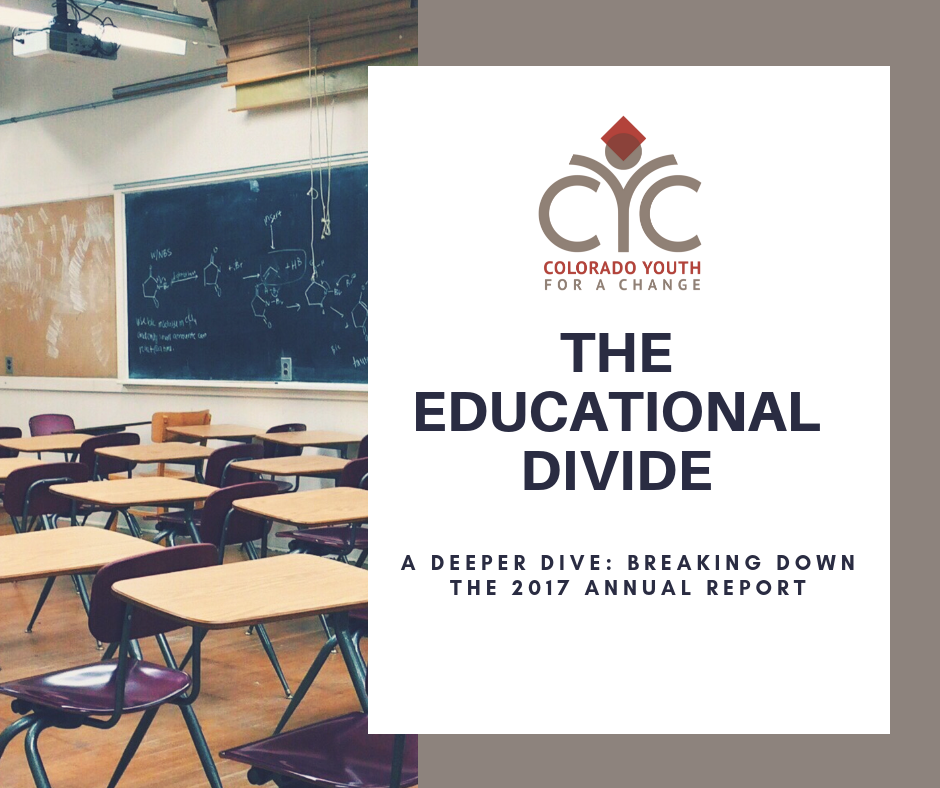 Our mission continues to be solving the dropout crisis in Colorado and we can honestly say that we have made enormous strides in helping the children and youth of Colorado stay on track and graduate. 
With each year, Colorado Youth for a Change (CYC) has expanded its programming and strived to serve more and more students. For the 2017-2018 school year, we served 2,801* students—by far the most amount of students ever served by us. A big part of that gain was the addition of the Colorado Reading Corps program, which initially started in 2014 at Mile High United Way. We're especially excited about this program because it expands our services into kindergarten and is truly the most preventative work we can do.
CYC has three programming areas: Prevention, Reengagement and the Futures Academy. We have a spectrum of programming that serves a common cause: ensuring all students in Colorado are successful, graduate from high school, and continue on to college and career.
Prevention Programming
As mentioned, the Colorado Reading Corps Program is our newest addition and it is a nationally replicated, evidence-based program that provides trained tutors to increase literacy for children in kindergarten through the third grade who are not reading at grade level. During the 2017-18 school year, 881 children were served in five school districts (Jeffco, Adams 12, 27J Brighton, Aurora, Englewood) and 38 schools. Sixty-six percent (66%) of these students achieved more than one year of growth during the school year, which ultimately moves them towards being on grade level—as key indicator for graduation.
The other two prevention programs, Attendance and Educational Intervention, both focus on students who are showing some signs of struggling, but with the right amount of support, can easily get back on track. A total of 624 students were served in the Attendance program by 22 AmeriCorps members in 16 schools and 284 students were served by the Educational Intervention program by five staff members in five schools.
The Attendance program identifies students who are struggling with attendance, usually falling between 70 and 90 percent. Anything below 90 percent is considered "chronic absenteeism." It is the newest CYC program. While close to 11,000 meetings occurred equaling about 4,000 hours, outcomes for this program are still being developed. The challenge here is that attendance trends downward across most schools, making a simple increase difficult to measure. A statistical model is currently being developed which will show attendance performance compared to the school.
The Intervention program focuses on catching students who are failing one to three courses , especially in a core class, like math or language arts. Research shows that students who do not pass all of their classes have higher rates of dropping out as they fall more and more behind. During the 2017-18 school year, 71 percent of students in the Intervention program ended the year on-track to graduation.
Reengagement Programming
Our next program is called Reengagement. The first component of this program is calling students who have dropped out and finding what happened to them. CYC served Aurora Public Schools, the Boulder Valley School District, Denver Public Schools, Englewood Schools, and Jefferson County Public Schools with this program during the 2017-2018 school year, and close to 5,000 students were contacted. A total of 14,983 attempts were made to find these students and get them back into school. Sometimes these students were found enrolled in school (42 percent) while sometimes we simply can't find them (21 percent). Another 10 percent had moved to another state or country. Perhaps the most heart wrenching group are the students we contact who simply state that they are not interested in returning (14 percent). About half of those students say they can't return to school because they are working to support themselves or their families.
The second component of the program is reengaging the students and doing everything within our power to bring them back to school. For the 2017-2018 school year, 690 students were served while 451 were enrolled back into school. Of those 451 students, 68 percent finished the school year with a positive outcome . Of the students who did finish the school year with a positive outcome, 67 were still in contact with CYC staff and are hoping to resume school in the current year.  
Futures Academy
Futures Academy serves students too old to graduate from a traditional high school, but who still have enough time to earn their GED certificate and even a post-secondary certificate or Associates degree. For example, 50 percent of the students entering Futures test at the 9th grade or higher and within a year are capable of earning a GED. If the student is truly motivated, they can attend a program at Pickens Technical College or Community College of Aurora (CCA), and receive both at the end of the year. Some students need a little more time and can accomplish those goals in two years. For the 2017-2018 school year, 42 students earned their GED, while another 60 students had passed at least one GED test and are on their way to finishing. An additional 61 students were co-enrolled in a post-secondary program, while 9 students earned a certificate.
We are so proud of all the work that our AmeriCorps members did during the 2017-2018 school year, as well as our staff. Serving youth is sometimes difficult as the youth we serve have many barriers which must be overcome. Yet when they do, the strength and resiliency of these students shines through and reminds us of the importance of graduating school. We also want to thank all of the other people who helped us. We are so proud to have your support. We couldn't do any of this without you.
*This is an unduplicated count. A very small number of students were in more than one CYC program.