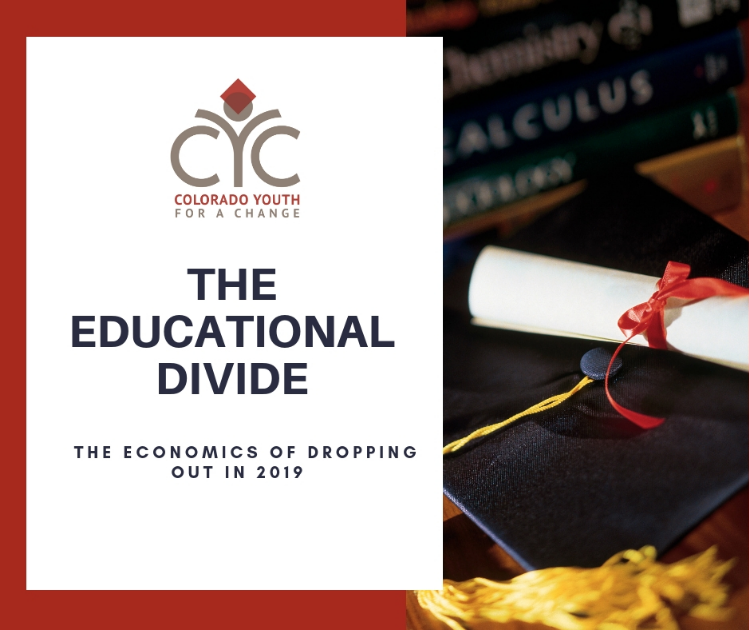 The Economics of Dropping Out in 2019
Here at CYC we're pulled in two different directions. We're optimistic about the work that's been done in the past 10 years, cutting the number of students who drop out nearly in half from more than 18,000 in 2005.
Yet as we all know, Colorado is changing rapidly and becoming one of the most expensive places to live in the United States. The employment sector is also changing and focused on high-growth industry pathways like information and technology and construction —jobs that often require a diploma and post-secondary education. A study by Georgetown University estimates that 74 percent of all jobs in Colorado will require high school completion and some level of a post-secondary education by next year.
While there are more students graduating and less students leaving school early, dropping out in 2019 (compared to ten years ago) is not even remotely the same thing. With increased workforce needs and requirements, and an ever-increasing cost of living, the full consequences for those who don't complete high school remain to be seen. Not having a diploma has always considerably increased a person's chances of living in poverty, relying on public assistance, having poor health, and increased exposure to violence and court systems.
If we look at numbers from 10 years ago, the population was 5,029,000. Comparing those to recent population estimates, the current number stands at 5,695,564. Moreover, in 2009, the average mortgage was $218,000, which translated (more or less) into a monthly payment of $1,031. Now the average mortgage is said to be $378,000, which is a $1,787 monthly payment. Rent has also increased significantly, with the averages for a two-bedroom apartment at $1570 in Aurora, $1340 in Denver, $1890 in Littleton and Thornton. A general rule is that no more than 30 percent of your income should be allocated to rent or a mortgage, but this is no longer possible for many Colorado residents.
Making minimum wage in our current environment, by all standards, equals poverty; yet this is the reality for many students who drop out of high school. In 2009, the minimum wage in Colorado was $7.26. The minimum wage  in 2019 is $11.20, which translates into $21,324 a year. Federal guidelines for a family of four living in poverty is $25,750—which is above the minimum wage. Moreover, to be eligible for free and reduced lunch in Colorado's public schools, a family of four needs to make less than $32,630 for free lunch and less than $46,435 for reduced lunch.
In our state's public schools, the number of children living in poverty is increasing. In the 2008-2009 school year, 287,733 students qualified for free and reduced lunch, which was 36 percent of the K-12 student population. Last year, 357,976 students qualified, which was 41 percent of the K-12 student population.  
This is where we can tie things back to a particular concern: the dropout rate. In 2008 the number of students who dropped out and qualified for free and reduced lunch was 5,048, and they made up 33 percent of all students who dropped out. In 2018, 5,095 qualified for free and reduced lunch, but they made up 50 percent of students who dropped out. While in some ways it's great to see that number stabilize, it also means that the percent of dropouts in poverty is increasing. This is putting a strain on the direct services team here at CYC, not because there are more students in a numerical sense—but simply because the students we are working with are increasingly more likely to be poor.
The Return on Investment of a High School Diploma
If all of that isn't enough to convince someone of the need for a diploma in Colorado, and to continue investing in education, the return on investment is staggering. It's widely known that having more education equals higher wages, and in turn, increased tax revenue and economic growth. On average, a high school dropout earns $8,000 less than a high school graduate, and $26,000 less than a college graduate. One study found that if the male graduation rate increased by 5 percent that could save an estimated $18.5 billion in criminal justice system costs.
We are at risk of the success of the last 10 years being eclipsed by the increasing economic burdens on Colorado families. When CYC started this work, we felt a good deal of urgency and compassion pushing us forward. Now that sense of urgency is increasing as we see a bleak future for students without a diploma and the proper education to compete for meaningful employment. While the economy appears to be booming and benefiting many people, someone without the proper skills and credentials is increasingly isolated from it, and not able to reap the rewards. Finishing high school and successfully transitioning to post-secondary opportunities changes everything, and opens up unlimited opportunities for a financial secure, healthy, and self-sufficient future. Now more than ever, Colorado students need all of our support to achieve it.